unlap Law Firm adheres to the highest ethical standards, will keep you fully informed, allow you to be in charge of all decisions and will always be available to you, our valued client.
---
Dunlap Law Firm, PLLC has a thorough understanding of Kentucky law, whether it be statutes, common law, civil procedure, ethics or the rules of evidence. While knowledgable in all aspects of the law, Versailles lawyer Whitney Dunlap and his staff specialize in:
Please select the above links to learn more about our experience in these areas. You may also select from the menu below to view a summary of our "reported cases," or cases that have gone to the Court of Appeals or the Supreme Court, which are considered important enough to be instructional to the bar in guiding future trials.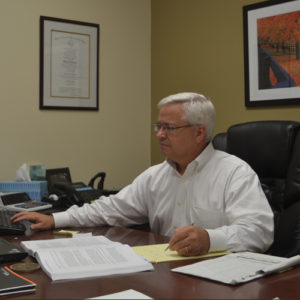 Child Custody

Nichols v. Helton, 2008 WL 2152224 (Ky App 2008) complex child custody and child support case for mother relocating out of state, which included recovery of attorney fees. 

Civil Rights

Rothhaupt v. Maiden, 144 Fed.Appx. 465, (Pet. for Cert. dnd, U.S. Sup Ct., 546 U.S. 1093, 126 S.Ct. 1052, Jan 9, 2006) dismissal upheld by U.S. Supreme Court of a civil rights claim by a professor arrested after 9/11 with secret documents.

Rothhaupt v. Maiden, 144 FedAppx 465 (6CA, 2005) successfully defeated claims of civil rights violations for improper stop and arrest after 9/11 related to Air Force Academy professor with secret documents.

Constitutional Rights

E.W. Scripps v. City of Maysville, 790 S.W.2d 450 (KyApp 1990) which required the City to open its meetings to the press.

University of Kentucky v. Courier-Journal & Louisville Times Co., 830 S.W.2d 373 (Ky. 1992) Supreme Court case upholding the First Amendment freedom of the press which forced the University of Kentucky to disclose the full NCAA investigation into the men's basketball team following payment of a $1,000.00 sent to a recruit.  Only known case to move from the Circuit Court, to Court of Appeals, to Supreme Court in the same day.

Construction

Banks v. L.G. Fox, 2009 WL 637162 (Ky. App 2009) non-liability for municipal code violation of business where street-side landscaping contributed to accident.

Stathers v. Garrard County. Bd Educ, 405 S.W. 3rd 473 (KY. App. 2012) blasting case where homeowner claimed against school construction project and sovereign immunity.

Employment and Disability

Maggard v. Com. Cabinet for Families, 991 S.W.2d 659 (Ky App 1998) which addressed grounds for discharge of an employee with medical issues.

McQueen v. Life Ins Co. NA, 595 F.Supp2d 752 (ED Ky 2009) ERISA (Employee Retirement Income Security Act) disability claim.

Cole v. Faggin, 419 S.W.3d 747 (Ky.App. 2013) concerning the priority accorded payment between No Fault benefits and MedPay benefits in an automobile insurance policy.

Corder v. Ky. Unemploy. Comm, 419 S.W.3d 747 (Ky. App. 2014) denial of appeal of unemployment claim of employment discharged for good cause.

Insurance Disputes

Ohio Cas. Ins. Co. v. Ruschell, 834 S.W.2d 166 1992  (Ky. 1992) Supreme Court case where auto insurance No Fault Benefits were declared not to be a subrogation right which could defeat recovery of victim.

Grange Mutual v. Trude, 151 S.W.3d 803 (Ky. 2004) leading Supreme Court case on the information an insurance carrier accused of bad faith negotiations must reveal.

Davis v. USAA, 2006 WL1509157 (Ky App 2006) leading case of the proper procedure for substitution of Underinsured Motorist insurance funds to force release of insured from lawsuit.

Solheim Roofing LLC v. Grange Mutual, 2010 WL 323296 (Ky App 2010) Underinsured Motorist Benefits coverage dispute by a motorist claiming that her personal vehicle was entitled to automobile insurance coverage under her husband's corporate fleet automobile policy.

Will Contests

Fischer v. Heckerman, 772 S.W.2d 642 1989 (Ky.App 1989) Established a list of "badges of undue influence" used to measure whether a Will was created using undue influence.

Dunlap v. Dunlap, 2005 WL 1415518 (Ky. App 2005) will contest over widow's power to assign her interest in pre-deceased husband's estate, and valuation of estate assets under tax law.